Cooking Class in Ubud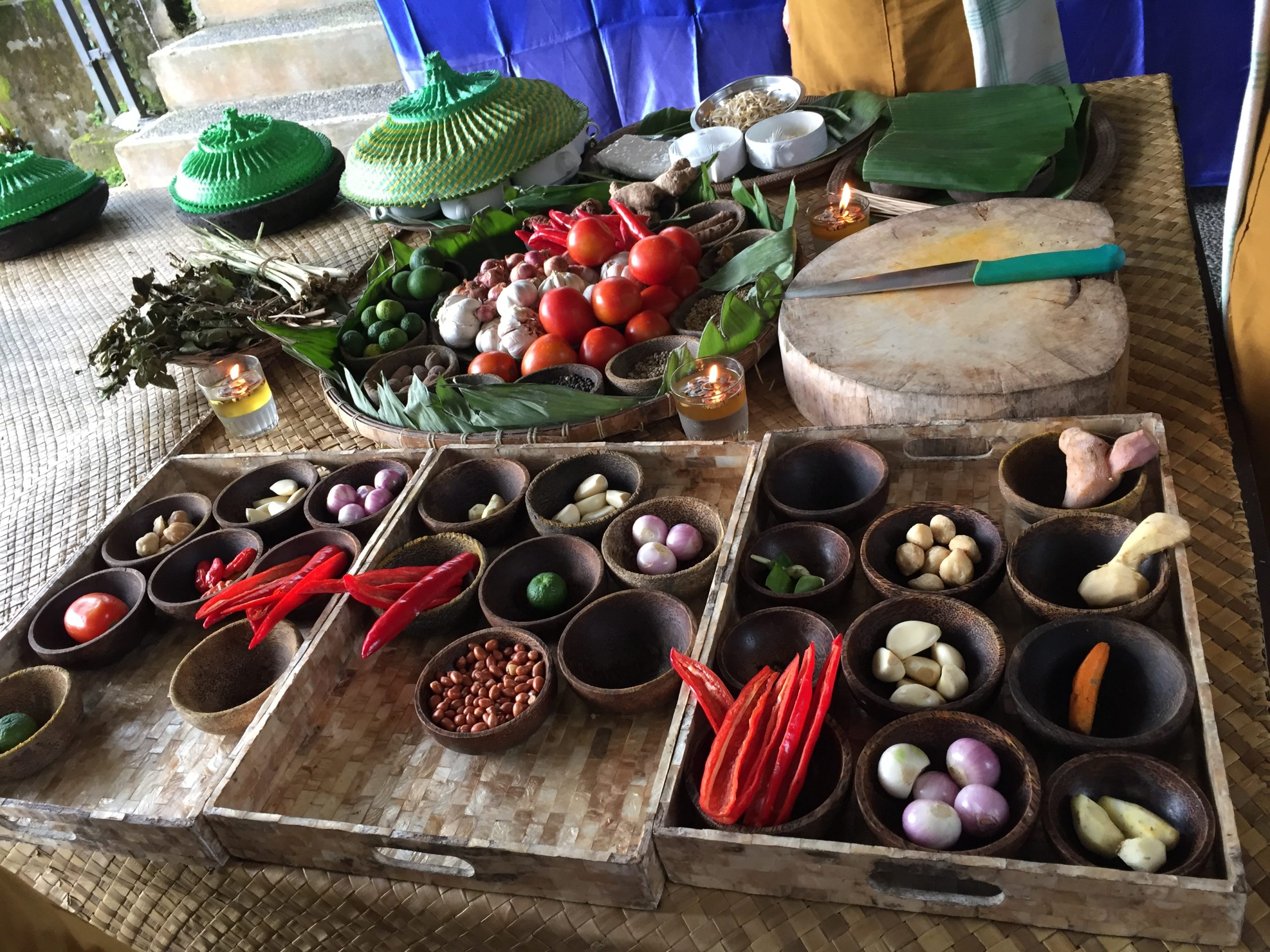 I believe wholeheartedly that cooking classes are the best way to get to know a culture! My husband and I both love to cook, try new cuisines, and as a result have had the joy of taking cooking classes all over the world. Bali is no exception and we learned a great deal about what ingredients (and flavor profiles) are key to Balinese cuisine. Many of the ingredients are quite unusual for the West – ever tried cooking with galangal, coconut oil, lemongrass, and kaffir lime? All I can say it's a feast for the senses! 
Periuk Bali
We had the luck of having our cooking class with Periuk Bali. This post is not sponsored. I absolutely recommend Periuk as it was an intimate, fun, and insightful experience. It was so great that my husband still makes Balinese chicken soup and curry from the class! Our instructor was super friendly and brought us to a local rice paddy first thing to show us how rice is made and then to a local wet market.
For the actual cooking class we went to our instructor's home, which is a traditional Balinese dwelling with multiple houses and an official family shrine. He even explained the concept of a traditional home and his daughter assisted us throughout the class, a truly cozy and intimate feel. We even learned how to make a Balinese offering before our class. You can see the small offerings of flowers and incense scattered throughout temples in Bali! Our class was also small, only three of us (including my husband), which was perfect. We got to know each other well and had some fun!
Balinese Cuisine
Balinese cuisine consists of plenty of fresh produce and spices. However, I found the food here to be clean-tasting, light and never processed (though always incredibly tasty)! Balinese cooking is largely done with coconut oil, which gives the food such a light and grease-free taste. At the start of our lesson we were even taught how coconut oil is made from scratch. Some other key ingredients commonly used in Balinese cooking are: garlic, red chili peppers, shallots, nutmeg, ginger, galangal, kaffir lime, turmeric, palm sugar, cumin, shrimp paste and salam leaves (Indonesian bayleaf). If you are visually curious, here is a fantastic clip of food blogger Mark Wiens documenting Royal Balinese cooking in the kitchen!
As for our own cooking experience, here is an expansive list (along with pictures) of delicious things we made from appetizer to dessert! The class took up roughly half a day and we were able to enjoy the fruits of our labor at the very end while enjoying the lush views of the jungle below.
Chicken Satay and Peanut Sauce
Sambal Ulek (Balinese spicy sauce)
Balinese Chicken Curry
Pepes Ikan (steam fish in banana leaves)
Tempe Manis (deep fried tempe in sweet soy sauce)
Sayur Urab (Balinese vegetable salad)
Soup Ayam (Balinese chicken soup)
Kue Dadar Gulung (pancake roll)
The Verdict
The best part is the fact we were given all of the recipes in print at the end of the class. So you can easily replicate all of the deliciousness from satay to dessert! Although some of these ingredients can be difficult to source outside of Southeast Asia many can be substituted. Rob and I have enjoyed delicious renderings of these dishes in Singapore and now in Lisbon! I am sure there many other cooking classes in Ubud but this one comes highly recommended. 
If you are like us and love to explore a culture through food you need to sign up for a cooking class on your next trip! Southeast Asia is a perfect region to do so and someday I hope to do a cooking course in Tuscany. Check out my posts on cooking classes in Rajasthan, Hanoi, and Changmai!
---