Day Trip to Cascais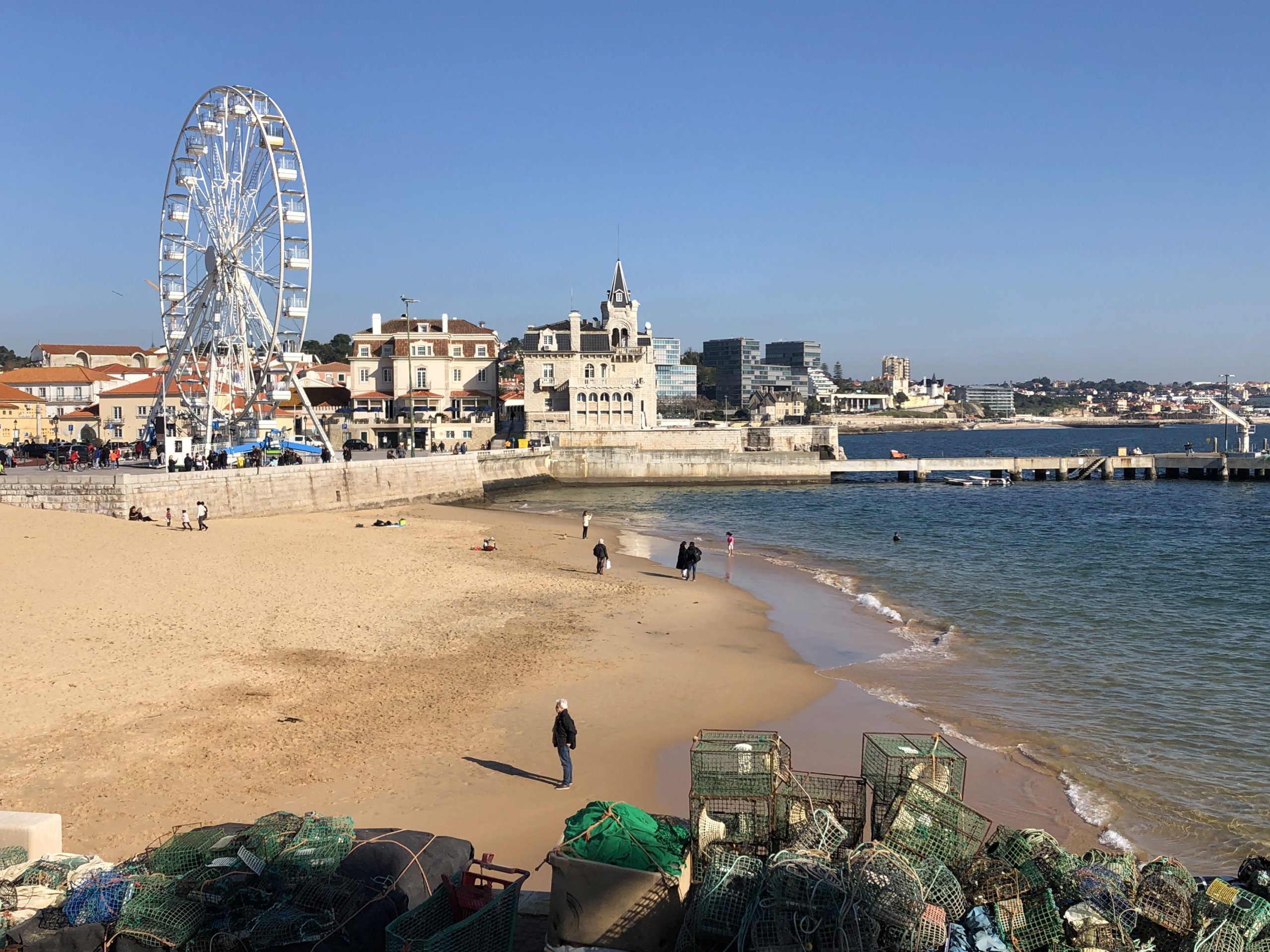 Olá 2020!
We are back from the Christmas and New Years holidays in New York and Amsterdam. Happy 2020 everyone! May your new year be filled with adventuring and travel planning! Rob and I have decided to make it a point to explore Lisbon and neighboring cities (and countries) this year. The easiest trip to take from Lisbon is Cascais, which we did the first weekend back in Portugal. 
Cascais
If you are visiting Lisbon, a day trip to Cascais (along with Sintra) is a must! A day is the perfect amount of time to spend in this small beach town, which is located a little under an hour from Lisbon. We took the Lisbon-Cascais line from Cais do Sodre, which has trains leaving every 20 minutes (2 euros each way). Even in January this town is absolutely delightful to visit – thank goodness for Lisbon's perpetually sunny weather! 
Cascais has some lovely beaches and is small enough for you to hit all the major sights. We managed to see the lighthouse (as well as climb it), the Parque Marechal Carmona, Praia da Conceição, and have a nice espresso at the end of the day. The town's bite-size proportions allow for a leisurely day that includes wandering around the charming little streets filled with brilliant bougainvillea. Cascais is known to be a posh beachside town where many of Lisbon's elite have their summer homes (or mansions rather). Through one of our rambles in the residential part of the town we stumbled upon a few police posts and security personnel. There must be some really important individuals living here!
Lunch: 5 Sentidos
We arrived just in time for lunch at 5 Sentidos, which is about a 15-20 min leisurely walk from the train station. The walk to the restaurant is beautiful and leads straight past the touristy bits, along the harbor, with sweeping views of the ocean, to the residential areas, which are quieter and more idyllic. It seems like a popular place as we got asked immediately if we had a reservation. The restaurant has an artsy, cozy vibe with abstract paintings hanging on the wall for sale! Notice the two chickens just hanging out on the beams under the roof?
In short, the food was absolutely delicious! There are many seafood options and my guess it is fresh from the sea based on the large amount of traps by the harbor. I ordered the spaghetti with clams, which in my opinion is the perfect dish to eat in a beach town. It was perfectly al dente, the garlic, white wine sauce subtle but flavorful – probably the best version i've had in a long time. Rob ordered a steak with pepper sauce. Interestingly, they served a thick steak (not thin, which is more usual in Portugal) with the most delicious cream sauce. Always with a side of french fries. Would absolutely come back again the next time we are in town!
Santa Marta Lighthouse
After lunch we continued our walk to the lighthouse, which you can climb to the top of at no cost. The lighthouse is tiny with a narrow balcony, wide enough for one person, to walk around. But we managed to squeeze by other folks and got a 360 view from the top. Check out the views! The water is an off-green color and I can only imagine how other more illustrious waterfronts in Portugal will look during the summer months!
At the top of the lighthouse we chanced upon a middle-aged lady who excitedly pointed us to an old Portuguese ship out at sea. Apparently a group of sailors are attempting the same voyage that the first Portuguese explorers made to sail right to Cape Town (and beyond) in a traditional ship. Let's hope they don't come across any perilous sea storms!
Parque Marechal Carmona
The Parque Marechal Carmona is right nearby the lighthouse and was delightfully green even in January. When you stroll about you will notice that there are quite a few impressive examples of elaborate Portuguese tile work, a tiny church, and a museum. Not to mention the free roaming chickens and roosters with their brood! Further inside by the fountains we also found some beautiful peacocks walking about. One of them even displayed its feathers for us when approached by a pigeon. Interestingly enough, he paid no mind to the chickens.
Praia da Conceição
After the park we walked back closer to the train station where we checked out the main beach, Praia da Conceição. It is easy to imagine the coast being quite crowded in warmer months. But it was pleasantly empty, except for a few families, couples and two daring swimmers. There is also a smaller beach closer to the harbor though both face the same side of the ocean. One thing to note, although the water looks calm, the current can be quite strong. So beware if you are an amateur swimmer or have small children in tow.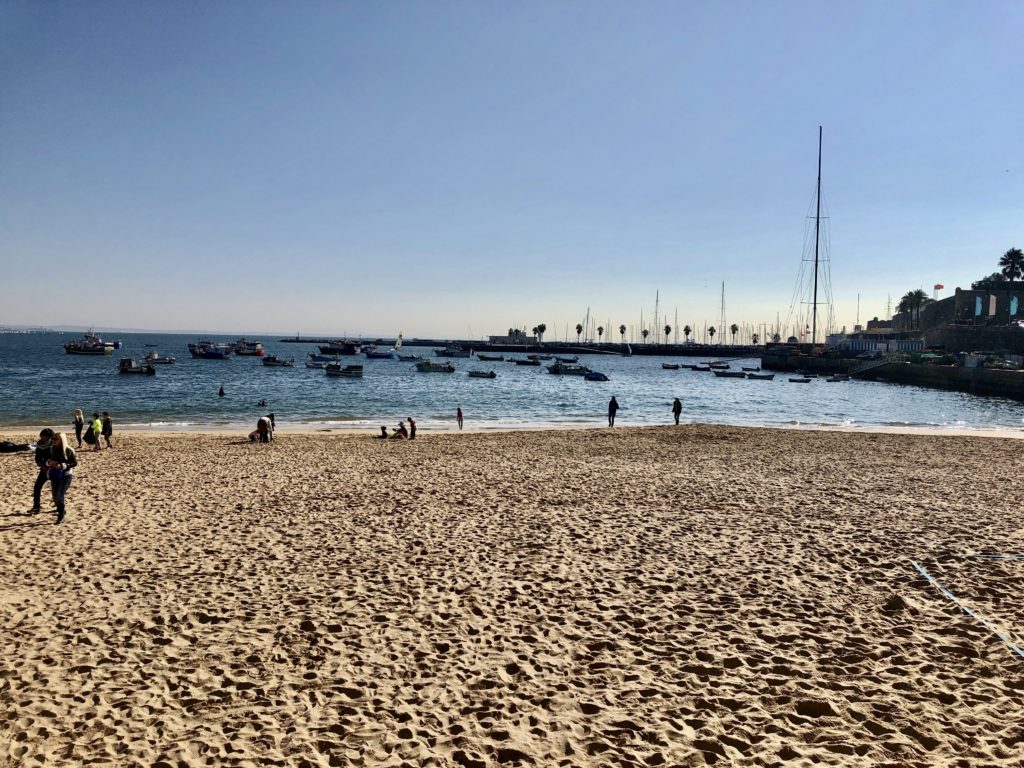 Espresso Break: Bijou Cascais
We then ended our pleasant day in Cascais with a bit of espresso and pastries at Bijou Cascais. Rob went for a classic pasteis de nata and I a noz, which is a specialty here. Noz is essentially candied egg yolk topped with a walnut. Must say, it was less tasty than it looks but absolutely adorable! Although pasteis is undoubtedly the most beloved pastry in Portugal I have heard the list of alternate delectable desserts is long. So my aim is to explore what other sweet delights Portugal has to offer. What's life without a little risk and an adventurous palate?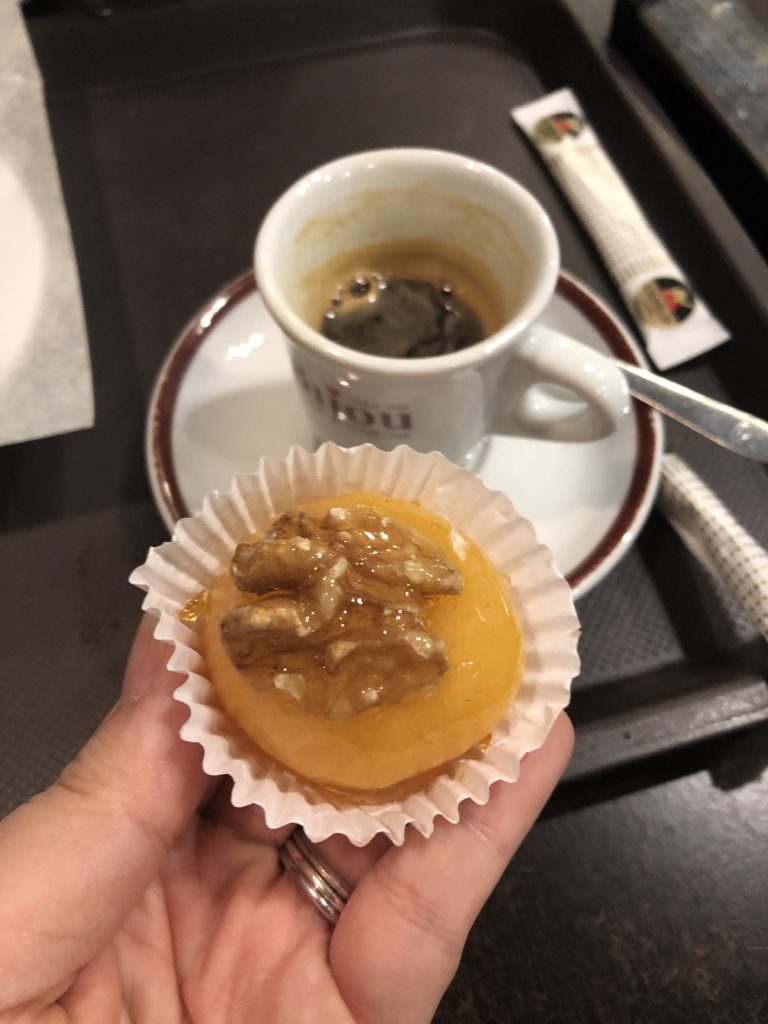 ---