Review: Convento do Espinheiro, Évora
On our recent trip to Évora we had the pleasure of staying in one of the loveliest and most fascinating hotels ever, Convento do Espinheiro! As you can guess, this hotel is a former convent that was renovated into a beautiful luxury hotel and spa. Till today Convento do Espinheiro has a truly serene and rustic feel. Although you no longer need to be a monk or nun to enjoy the convent it somehow leaves you feeling at peace, and dare I say, spiritually cleansed? As mentioned in my post on Évora, one of the great draws of the Alentejo region is its stark and natural beauty. The hotel is located a short while away from the city and is surrounded by farmland, olive trees and vineyards. The proximity to nature is what really adds to the beauty of the property.
I don't know about you but my favorite type of hotels are historic ones! Oftentimes staying at such a hotel means it ends up being a destination in itself and intuitively you get a feel for a culture or region. We have had the fortune of staying in historic hotels both in Europe and India and they really do not disappoint! We were delighted to find in Portugal there are similar options called pousadas, which used to be managed by the government. There are also other privately owned heritage hotels, like Convento do Espineiro, which are not technically pousadas but are of the same idea.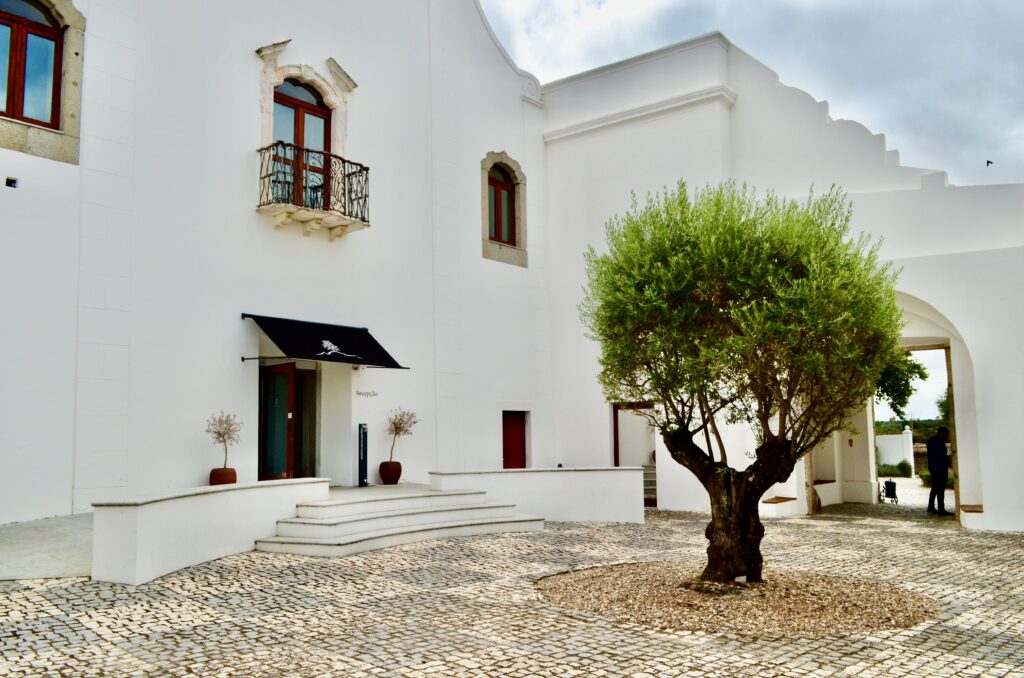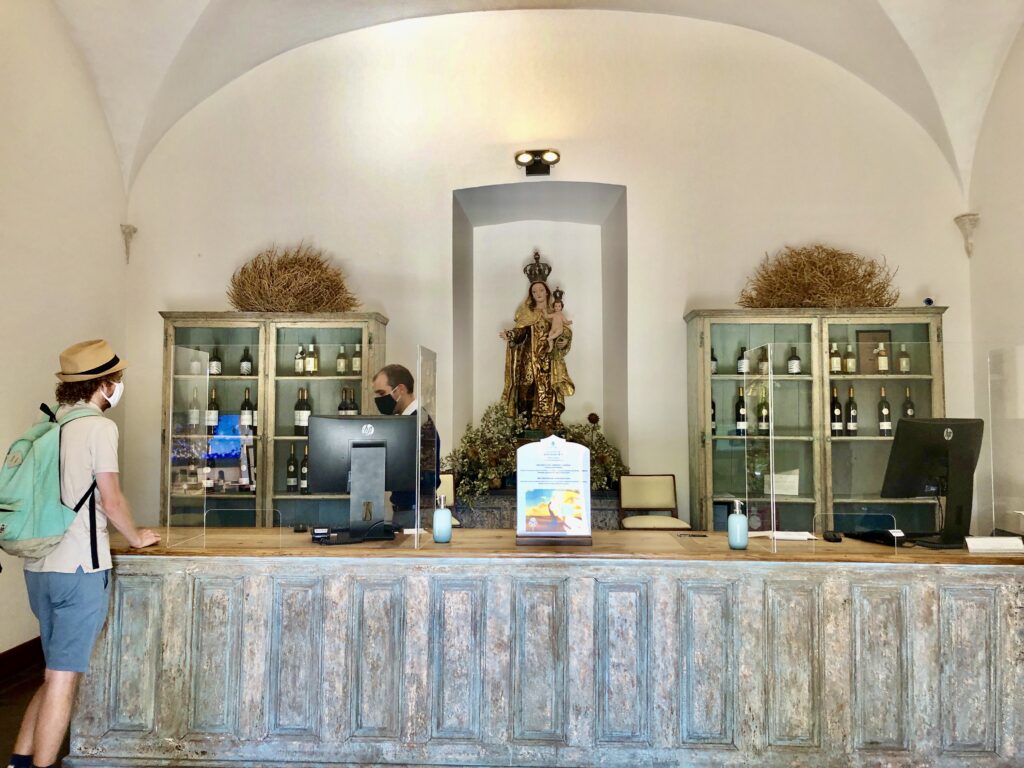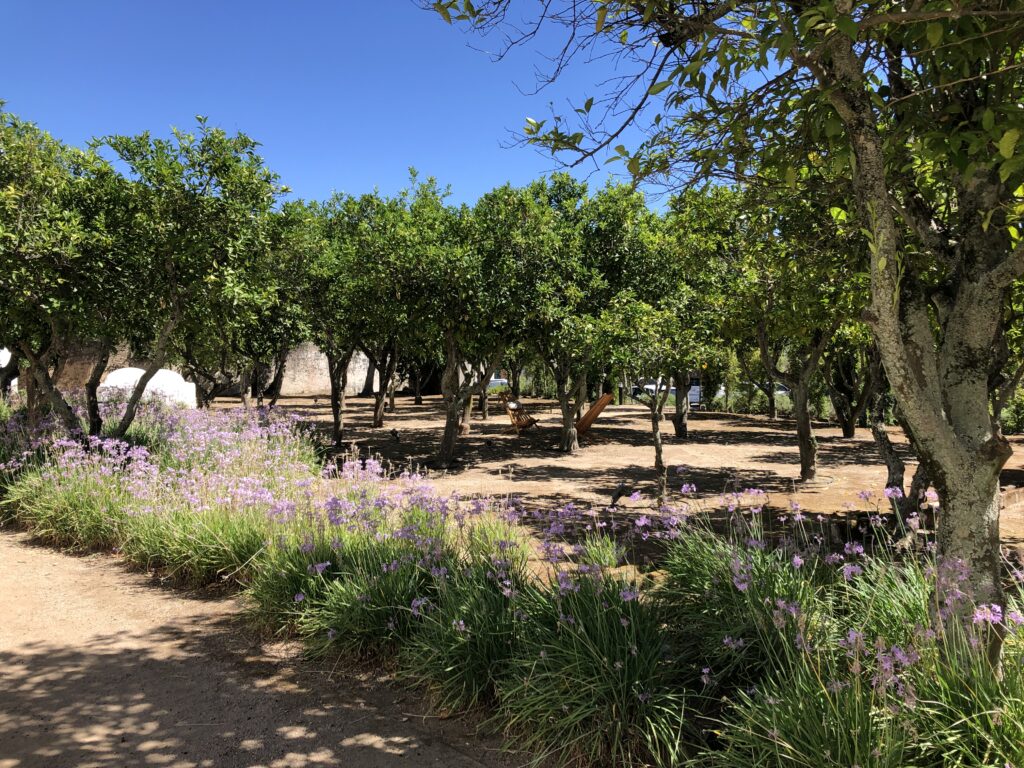 History
The historic nature of this hotel is palpable from the movement you arrive into the driveway. The facade looks very much like a convent and has a gorgeous white-washed look. Especially on a hot August day it is refreshing to look at! At the front desk there is a wooden statue of madonna and child and several bottles of wines, which have been produced for centuries by the monks at the convent. Something I appreciated a great deal is the fact that the hotel offers complimentary tours of the property everyday at 5pm to all of its guests as well as a wine tasting. Note: in COVID times you will need to make a reservation for this as well as for all meals (including breakfast) to ensure safety.
According to our friendly tour guide, the convent was founded in 1400 due to an apparition of the Virgin Mary seen by a humble shepherd boy. Based on the legend, she was seen above a thorn bush, or espinheiro in Portuguese, where the building stands today. As a result, the area became a major pilgrimage site and in 1458 during the reign of King Afonso V, a formal convent was built and occupied by the monks of the Order of St. Jerónimo.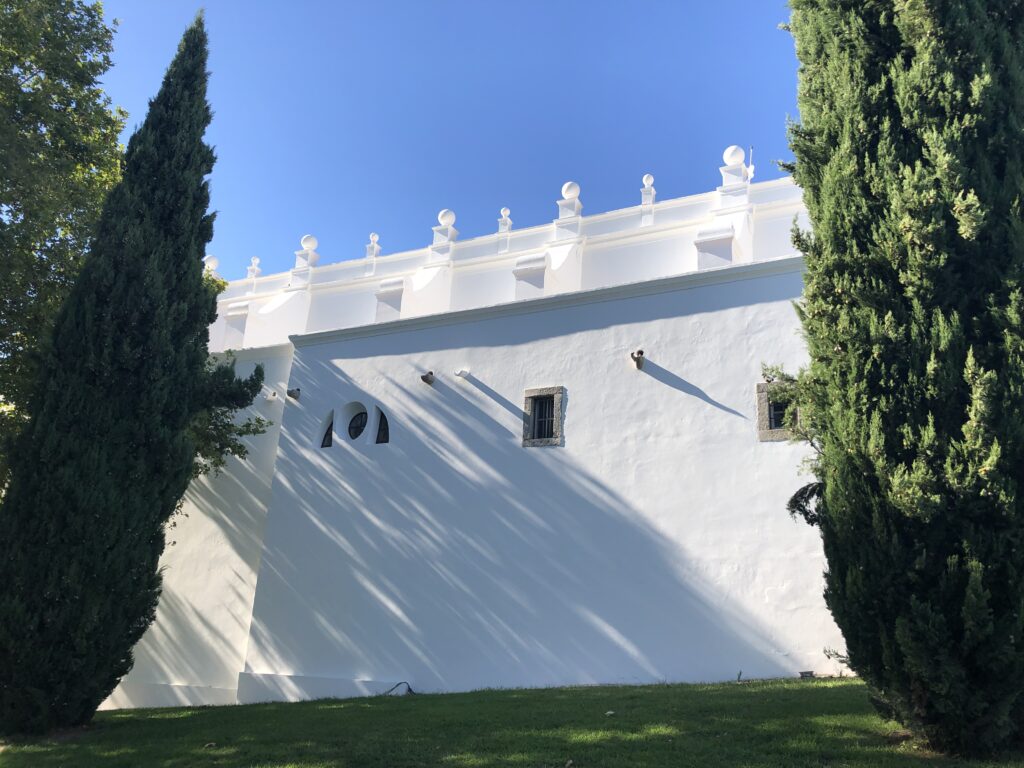 In the 15th and 16th centuries, during the golden era of discovery, Convento do Espinheiro was frequented by the Portuguese nobility, including King Afonso V and King João II, who would stay in the convent to pray for divine protection ahead of conquests in Africa. According to legend, King Manuel I was staying in the convent when he was brought news of the discovery of India by the most famous Portuguese navigator, Vasco da Gama. Members of the Spanish nobility also stayed at the convent including Princess Isabel of Spain, who was traveling from Seville to marry Prince Afonso of Portugal.
As you can imagine, based on the above, there are so many highlights to this hotel! For your viewing pleasure, I will list out below the most interesting aspects of the property.
Rooms
The convent was expertly renovated and includes both its original building and also a modern wing. Both have lovely rooms with their own specific draws. But we stayed in the modern wing, which overlooks the peaceful gardens. The room is spacious and includes a sitting area from which you can slide open a floor-to-ceiling door, which leads to a private outdoor patio and the garden. The simple fact that the door opens up completely means it almost feels like the garden is an extension of the room. You can enjoy the peaceful sounds of birds and running water while laying in bed. The decor is 1950s minimalist, slick and chic. It almost feels like you are spending the night in a modern art museum (in a good way)! The bathroom is also spacious with both a shower and bathtub (complete with bath salts!).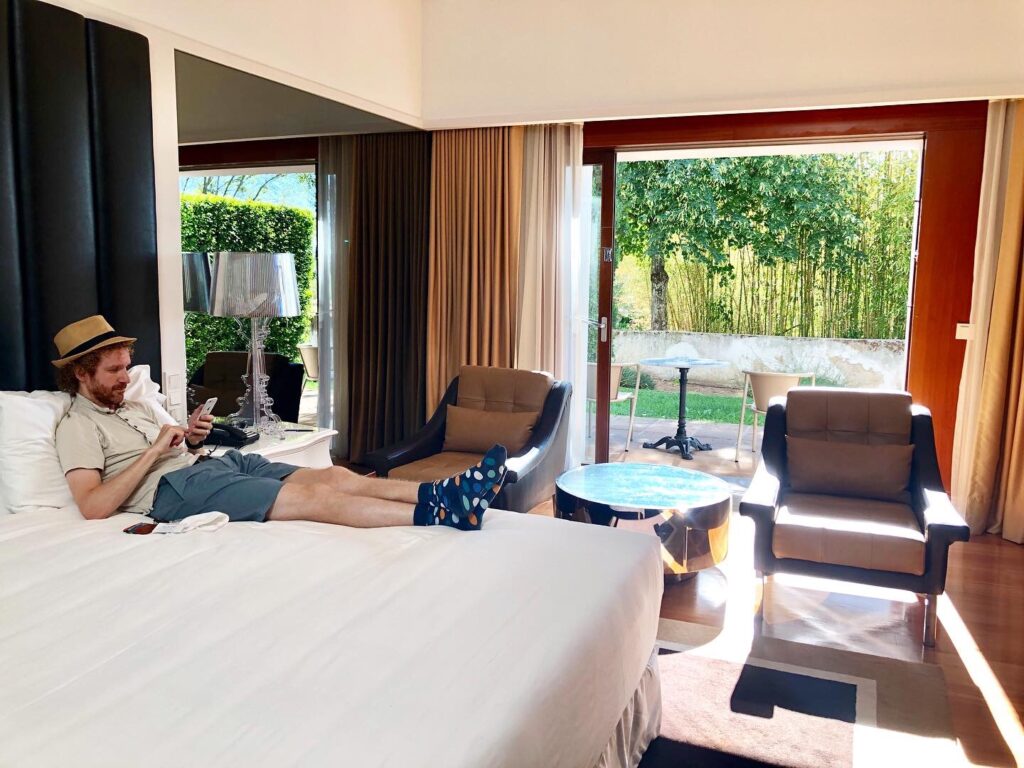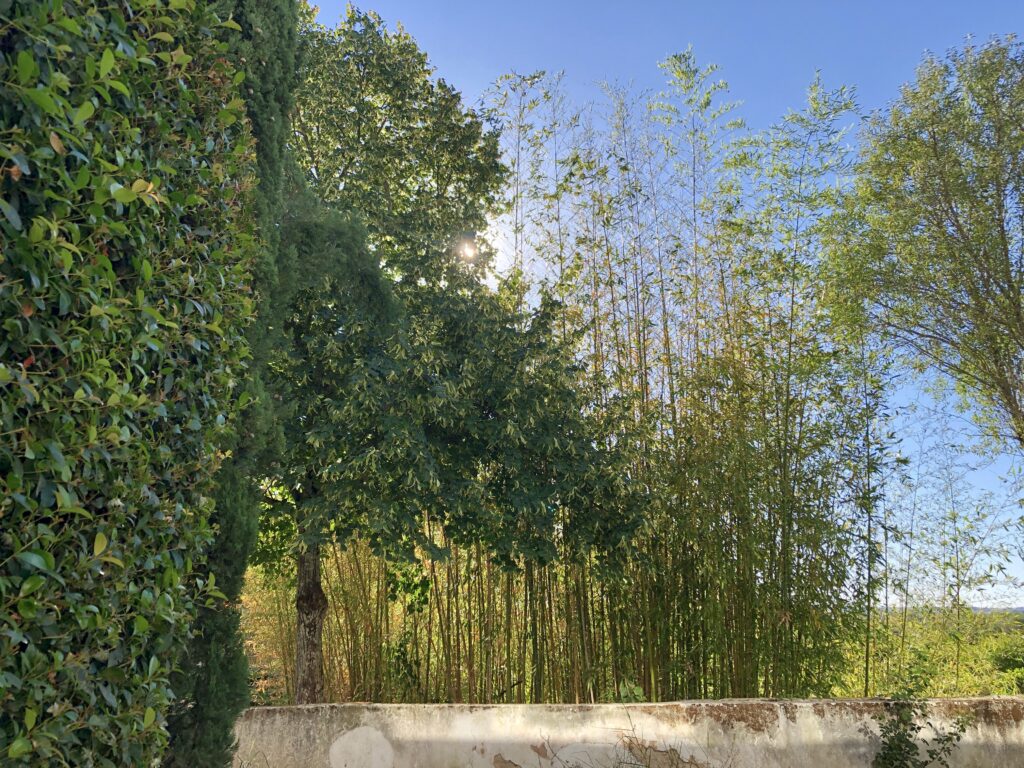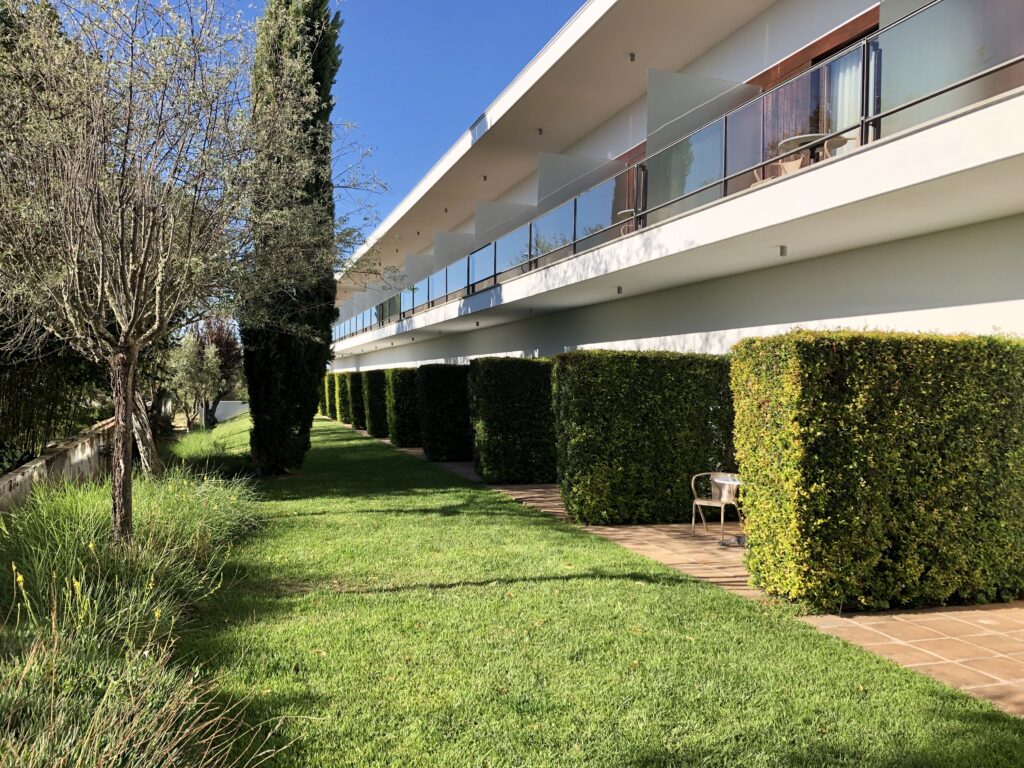 Gardens & Pool
From our room we were able to amble directly into the carefully manicured gardens of the convent. Might I add they are heavenly and so peaceful! The gardens are a mixture of French and Italian style – immaculately curated, symmetrical and lined with geometrically trimmed bushes and cypress trees. I was also fascinated to learn that the garden is irrigated via an old water system. During our stay my routine included taking walks in the garden around sunset when the light was especially golden and sumptuous – I can understand the great writers Mary Oliver, Henry David Thoreau and Virginia Woolf who always claimed they did their best thinking while walking. In such a beautiful natural environment surely anyone would wax lyrical?
There is also a wonderful outdoor infinity pool where one can lounge and a spacious area for sunbathing connected to it. We decided not to go in the pool as it was a bit crowded but definitely took advantage of the lounging area to read for an afternoon. Nothing like reading a good book with soft, fresh grass under your toes and cicadas chattering in the background!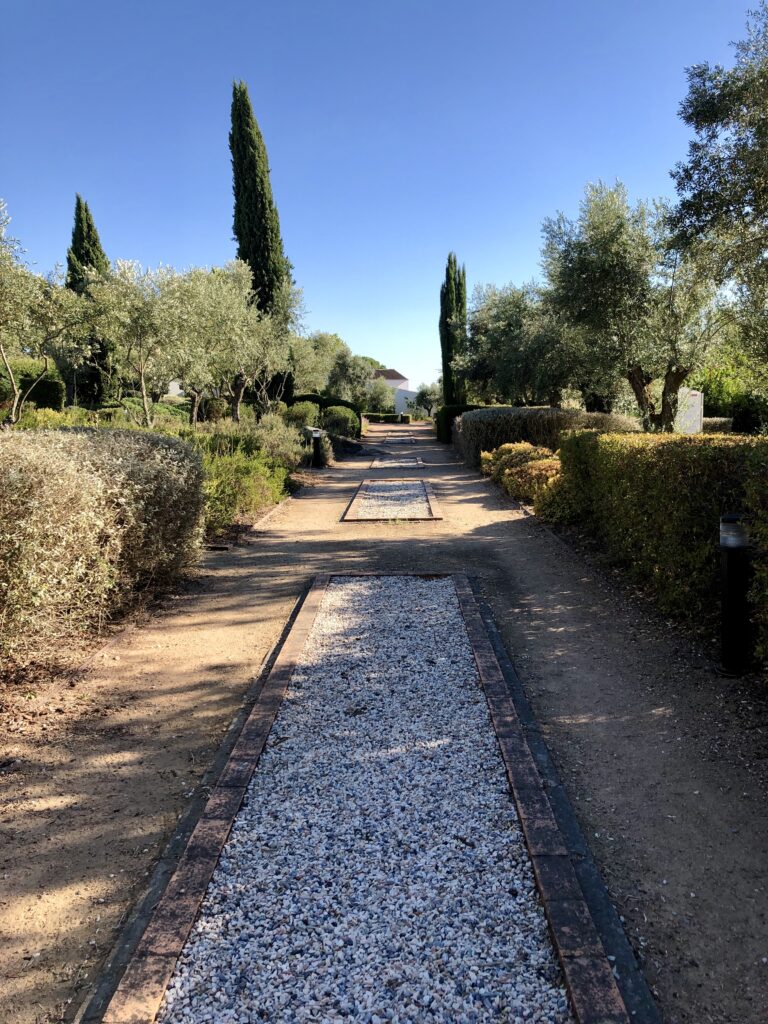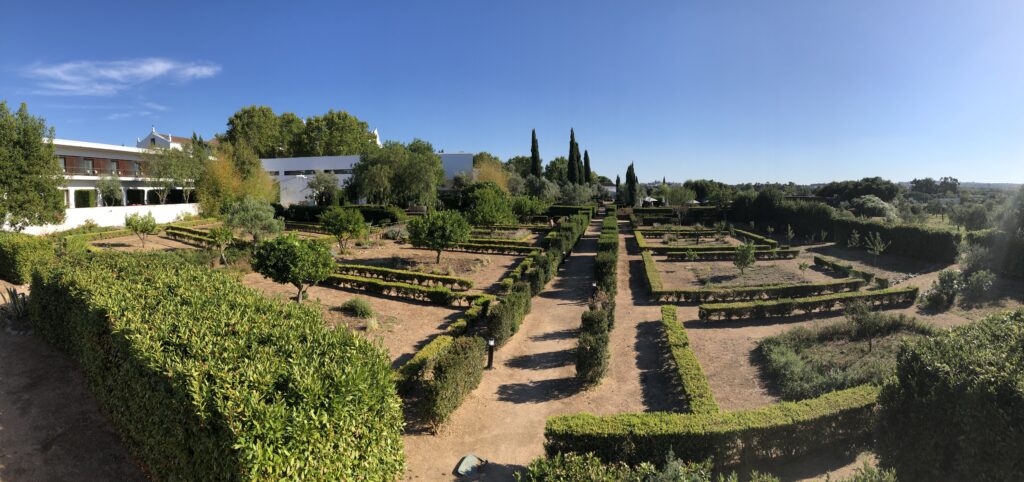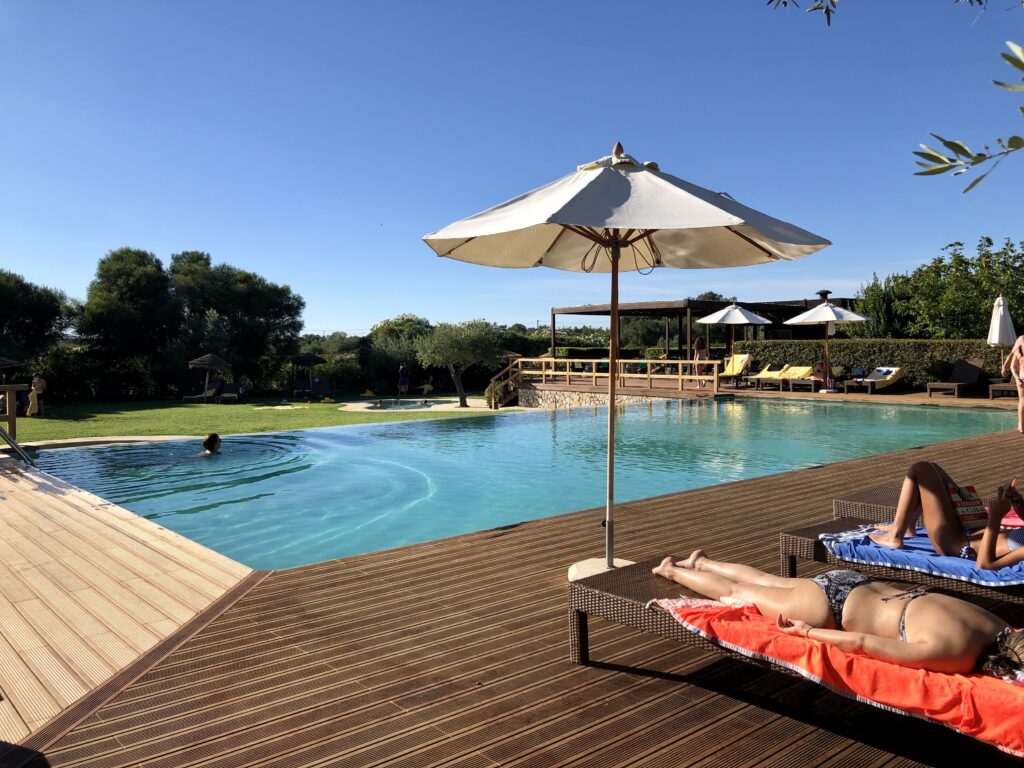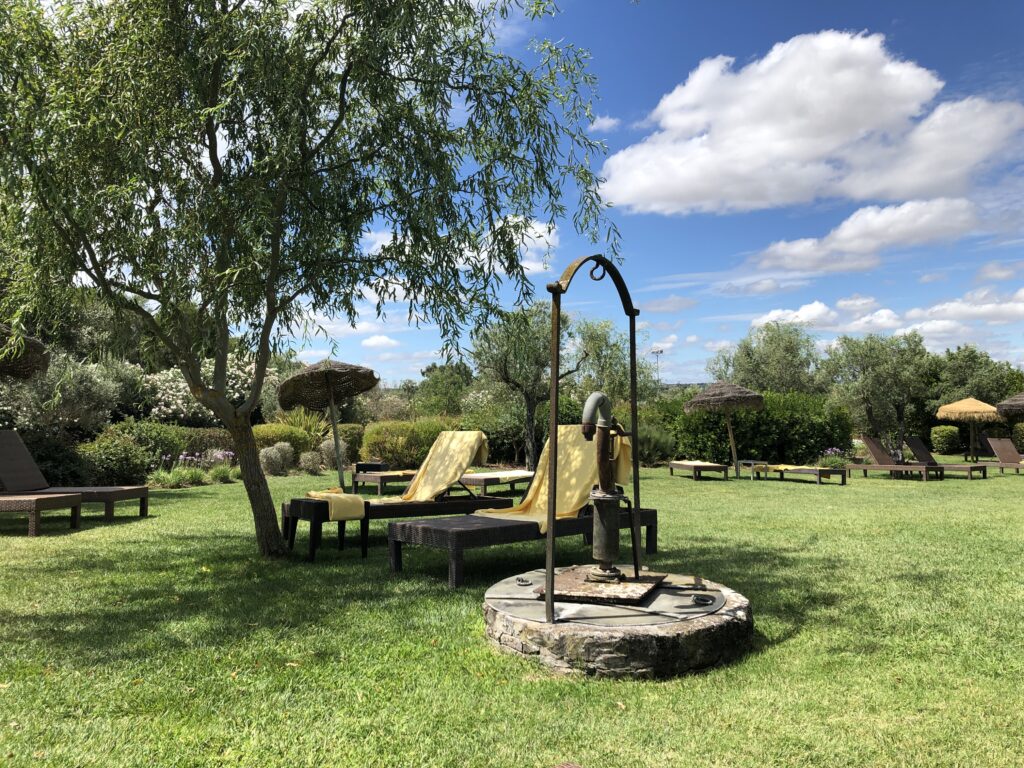 Chapel
Now getting into the historic areas of the convent, one of the most incredible spaces is the chapel. Mass is still held here once a month and there is an incredible organ on the left side, which still looks glorious but no longer works. Apparently, there are only one or two specialists in the world that are able to repair this particular model and as a result it costs somewhere around €1 million to do so! What a reminder of how historical restoration is a tricky business, with traditional trades continually dying out. This always makes me a bit sad to witness. Nonetheless, the organ still looks incredibly impressive.
What caught my attention about this chapel is its gorgeous pastel colors and intricate altar decorated with gold leaf. We actually stumbled into the space by accident after having a delicious breakfast our first day and were positively stunned. Apparently in one of the smaller side chapels on the right some paintings by Frei Carlos, a renowned painter and monk who stayed at the convent, are missing, one of which is now located in the Metropolitan Museum of Art in New York City! Next time I am back home i'll need to see if I can locate it!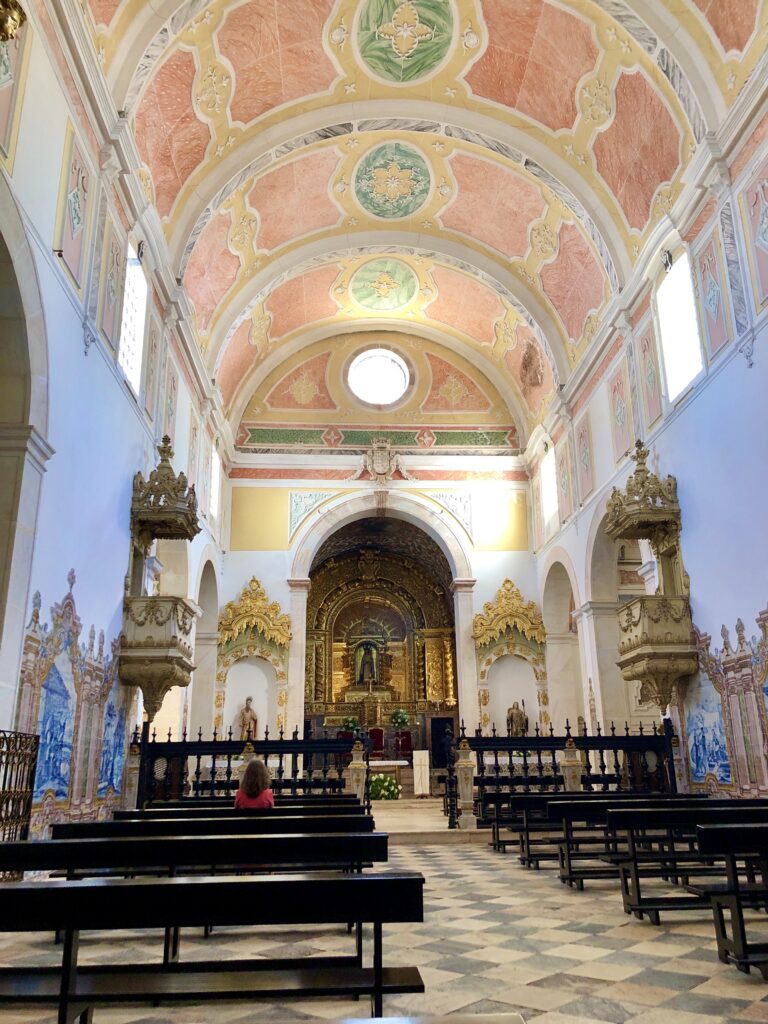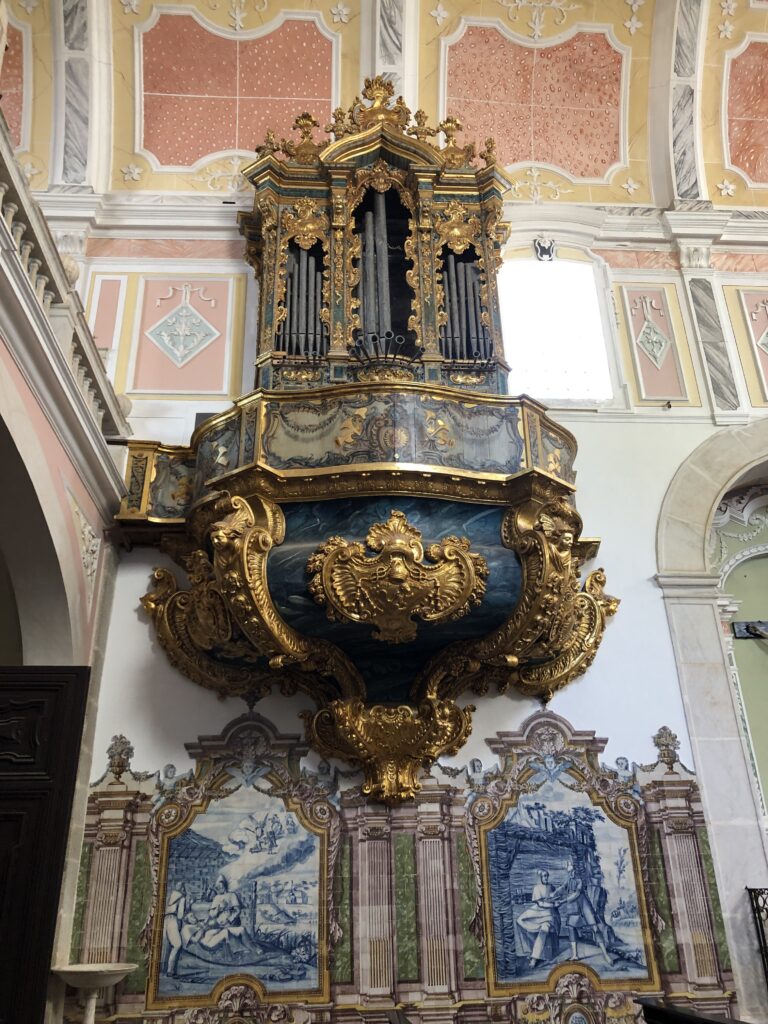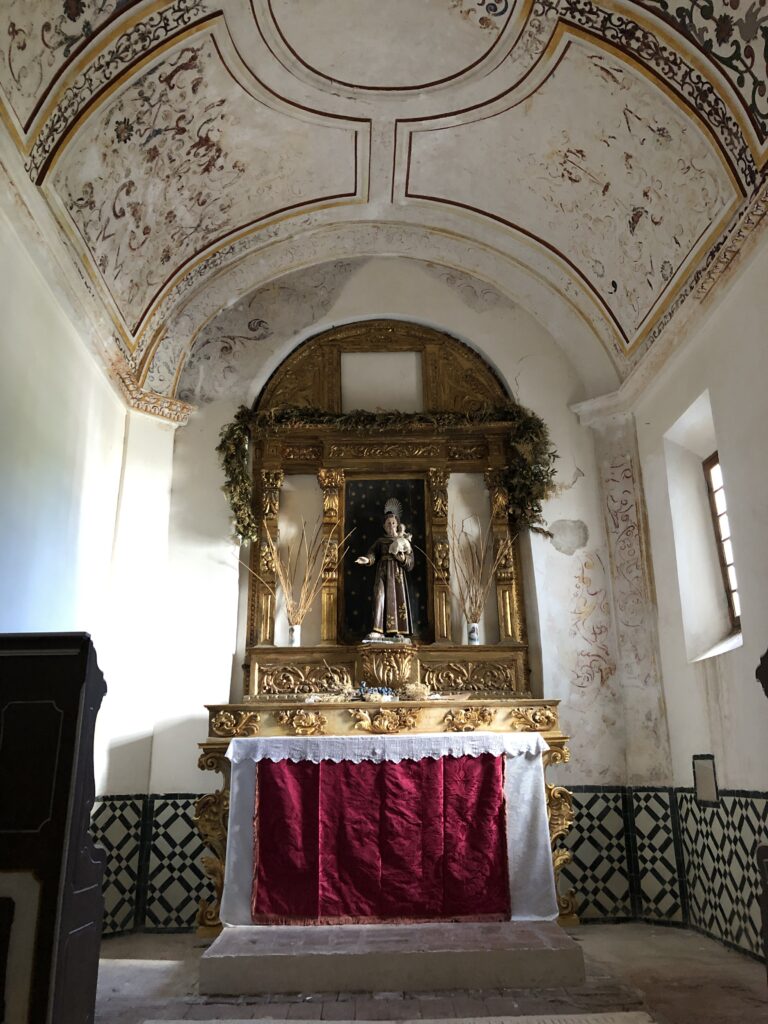 Rectory
Another one of my favorite rooms in the convent is the rectory. This is where the monks back in the day would have their meals. As you can see, today it has been converted into a sort of lounge area with plush couches, pillows and soft lighting. The room leads down to the two restaurants at the convent, Divinus and Olive. What is charming about this space is the random pulpit on the right hand side. This is where one of the monks would read out scripture every night while everyone ate down below. Might I say I'd much rather be the one eating?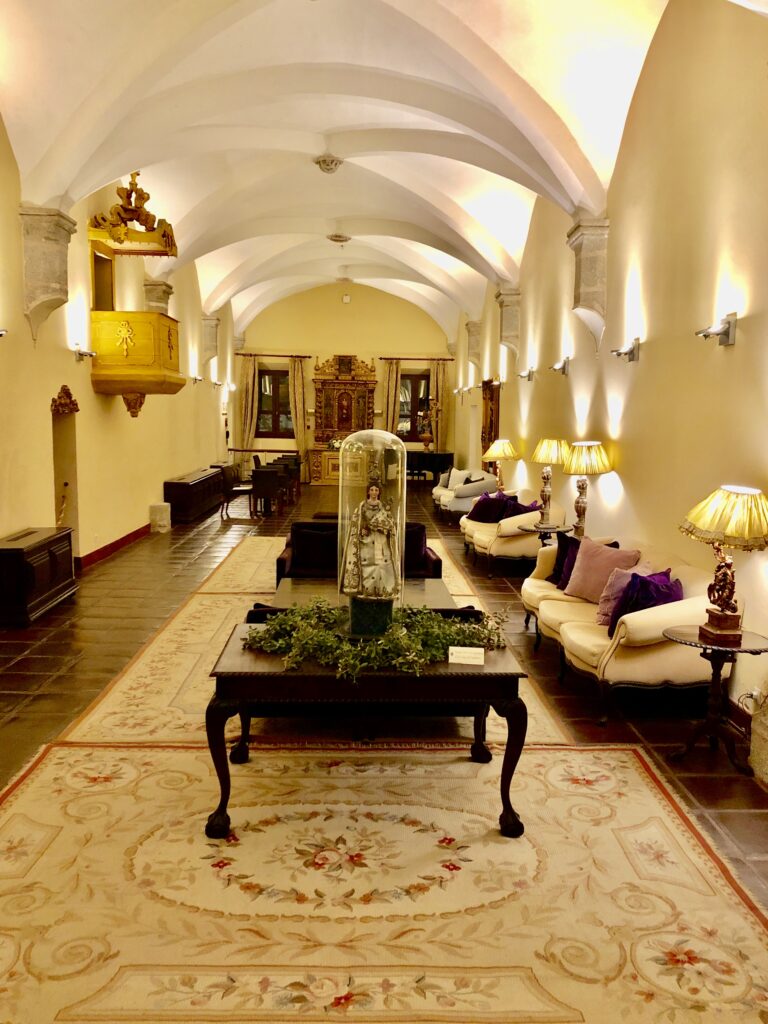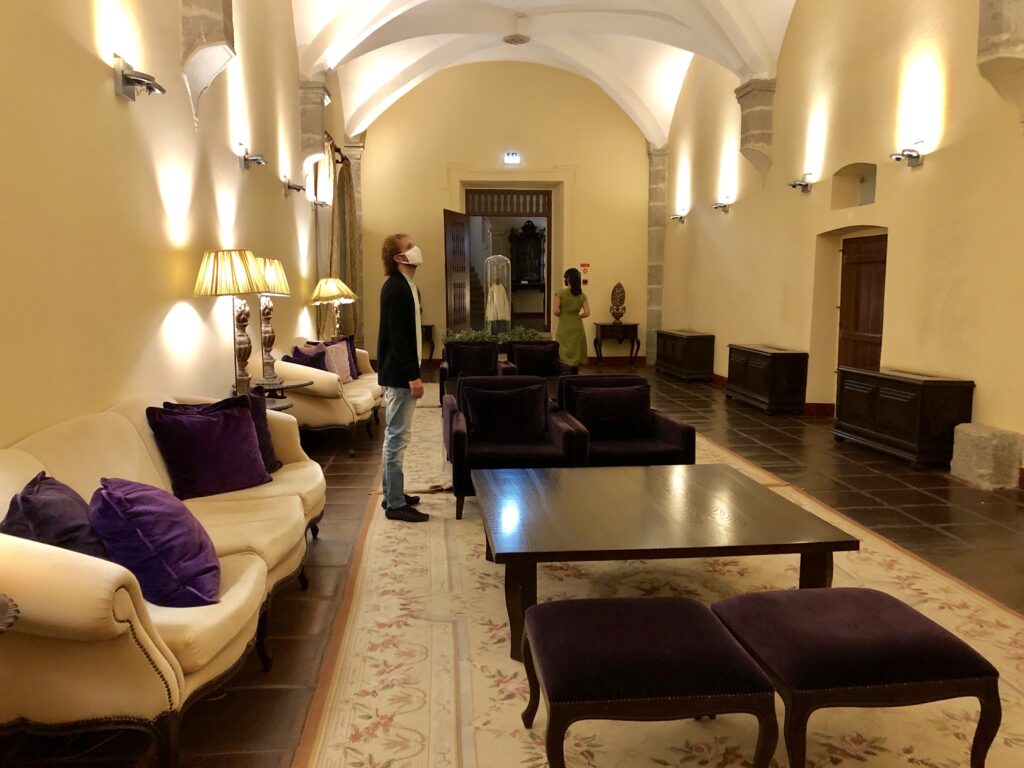 Cloisters
Now a convent would not be complete without a cloister! Convento do Espineiro has a beautiful one where you can admire the architecture. There are tables and seats open here where you can enjoy a cocktail or two after dinner. From the vantage point of the cloister you can admire the multistory building, which houses the more traditional and historic guest rooms. On the top most floor you have the largest suites where the nobility and dignitaries have and continue to stay in. Interestingly the suites are paired with smaller rooms where servants used to be conveniently situated in order to cater to every beck and call. Be sure to take one of the internal staircases up several floors to admire the view from upstairs as well!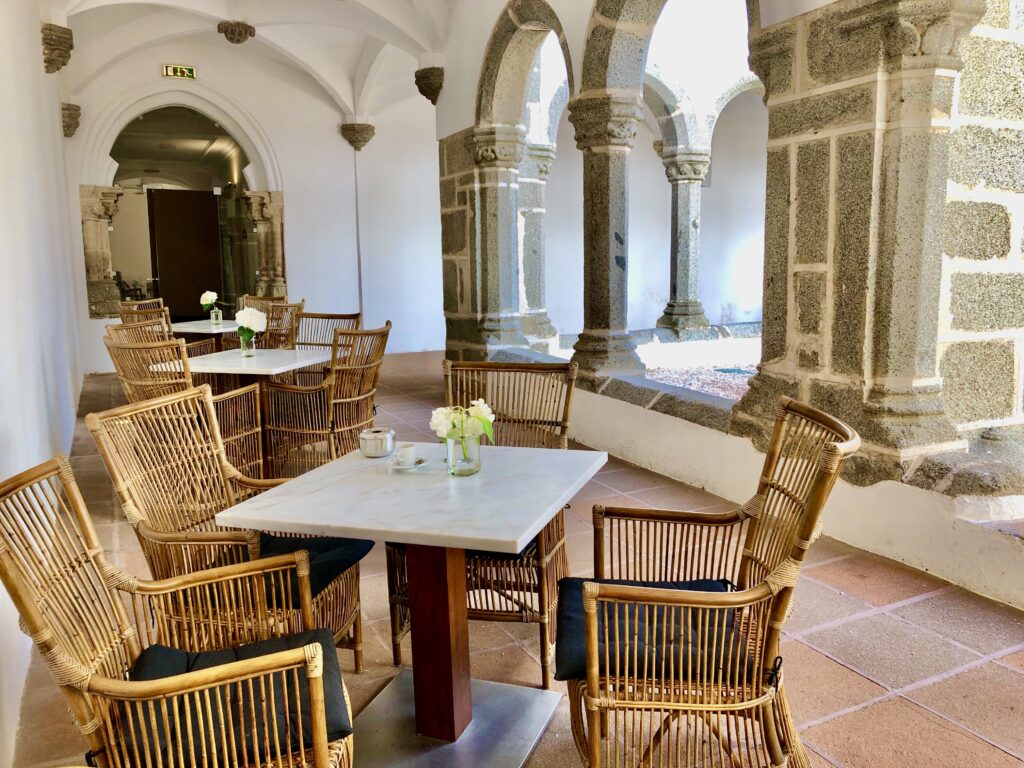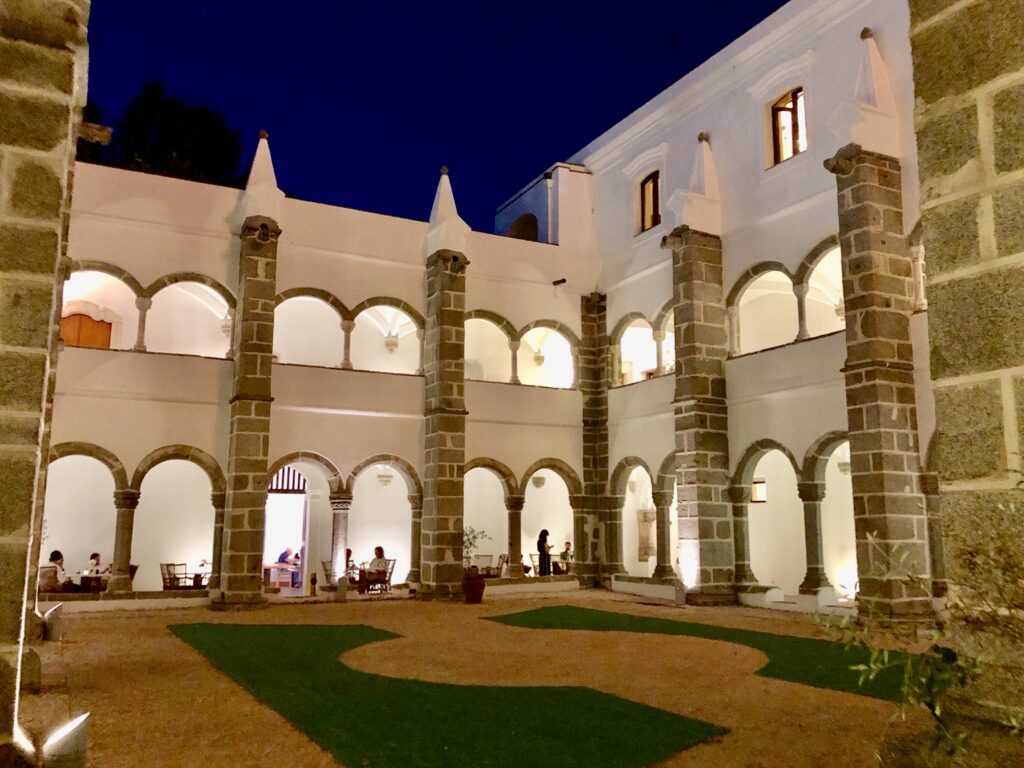 Winery – Divino Restauraunt
As mentioned earlier in my post, the monks at Convento do Espineiro produced a lot of wine in their time. In fact, vineyards still surround the property! The barrels of wine were stored in what is now Divino, the classical Portuguese restaurant. Breakfast is also served here and on a connecting balcony overlooking a courtyard with giant oak trees. The graceful arches indoors create intimate alcoves where you can enjoy meals. We had the fortune of enjoying dinner here to celebrate our first wedding anniversary! The food is absolutely delicious and they use only local produce to prepare the meals. The Alentejo region is renowned for its cuisine, which is simple and rustic but delicious. Similar to Tuscan cuisine, back in the day life was hard and resources scarce in the Alentejo, particularly during the dictatorship of Salazaar. This helped to evolve the regional cuisine into something that is humble but innovative.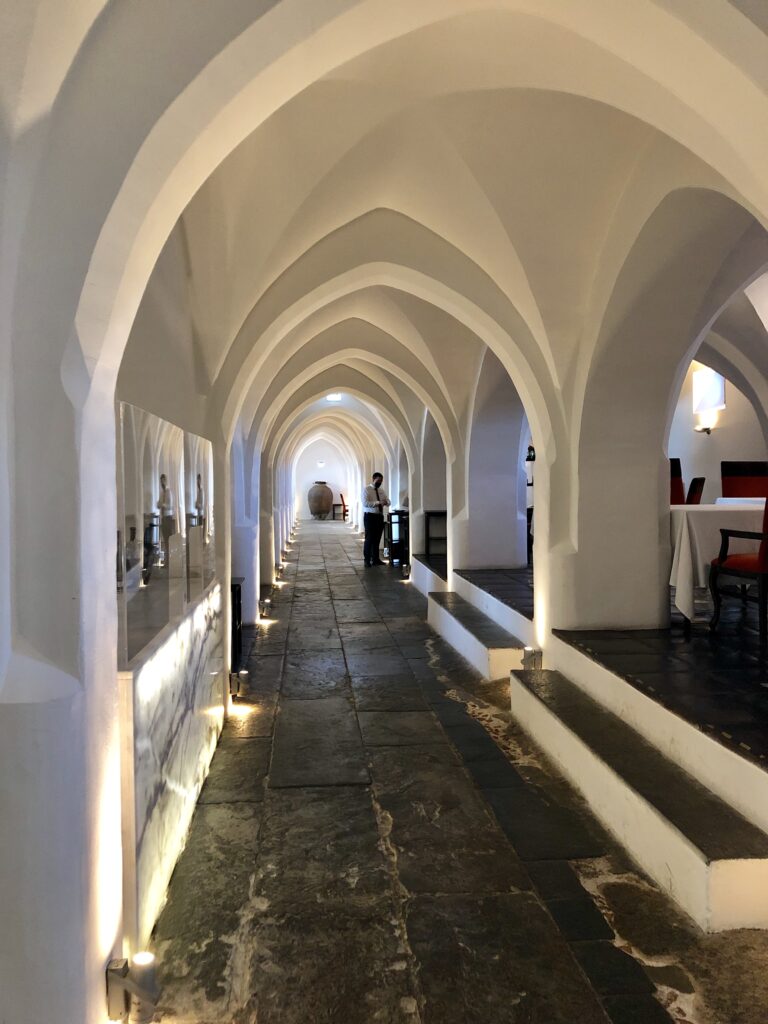 Before our appetizers the chef brought over some delicious amuse bouche, octopus salad and some slices of local cheeses, presunto (cured meats) and freshly baked bread with olive oil produced on the property. For our appetizers my husband enjoyed a foie gras with figs grown from the garden and I had a refreshing ceviche with strawberries. For our mains we had an exquisite filet mignon and sea-bass on a bed of risotto. If you have the chance, absolutely book a table here to try Alentejo cuisine at its best, even if you end up staying elsewhere!
Note: the restaurant took exceptional precautions to keep things safe regarding Covid. All servers wore masks and we ordered off of digital menus (only a QR code is provided and you can access it on your phone). Reservations are strictly made to ensure there is minimum occupancy at a given time. We never felt like there were too many people in a space.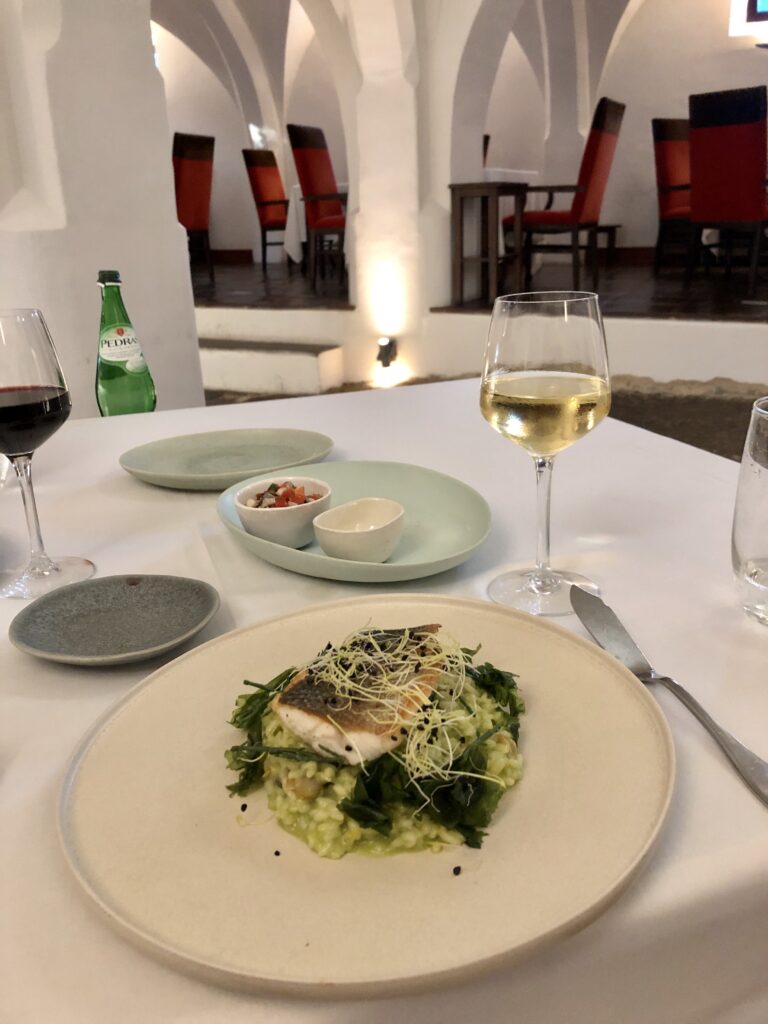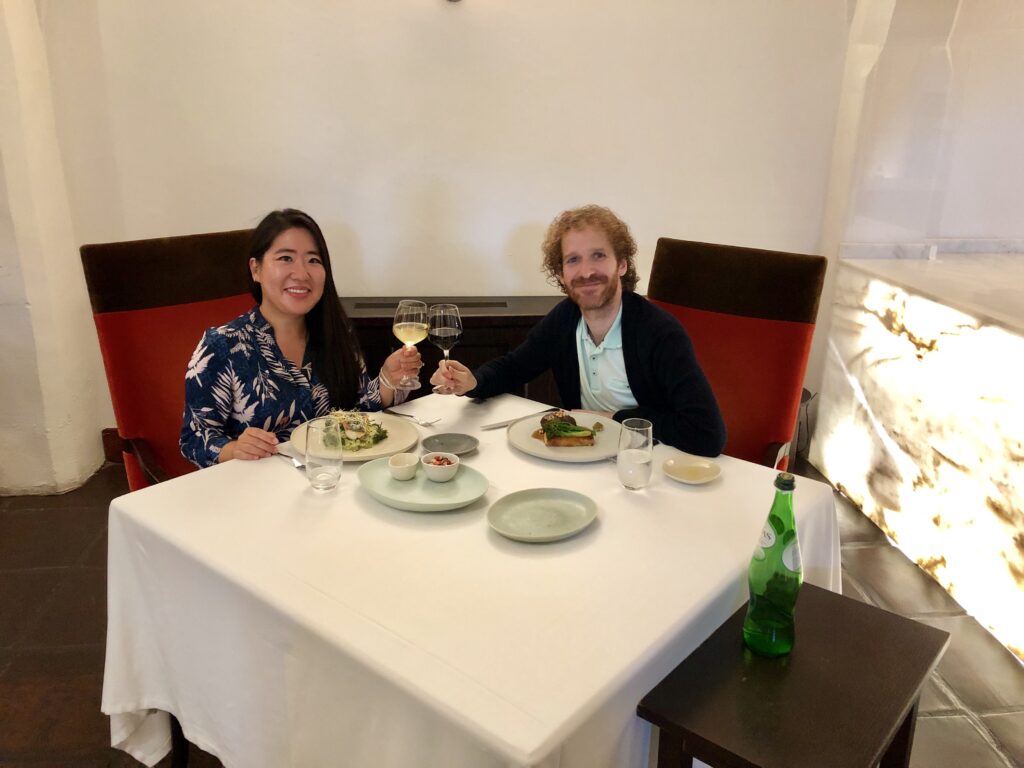 Cistern – Wine Tasting Room
The cistern, where the monks used to collect rainwater, is now a wine tasting room! Its cavernous and cool space is perfect for keeping wines of all varieties. Along the walls there are wines from all across Portugal including the Alentejo region. Although both red and white wines are produced under the convent's own label they are no longer made from the grapes grown on the property itself. Instead, there is a neighboring vineyard that does all of the production and growing nowadays. However, it is still very special to be able to taste wines under the name of Convento do Espineiro! As for the tasting, we were able to try a white, red and rosé. I particularly enjoyed the red for its earthy, almost spicy profile which is similar to what you'd find in a high altitude Spanish or Chilean wine.
If you did not know, Portugal is a large producer of quality wines! The Douro valley in the north, next to Porto, in particular is one of the oldest demarcated wine valleys in the world and a UNESCO heritage site. However, Alentejo is also celebrated for its deep and rich red wines. Because of the region's hot climate and rich soil the terroir is quite good. It is a shame that overseas Portuguese wines are not as well known as they are just as good as Spanish, French and Italian varieties. Might I also add the price point is also more competitive?!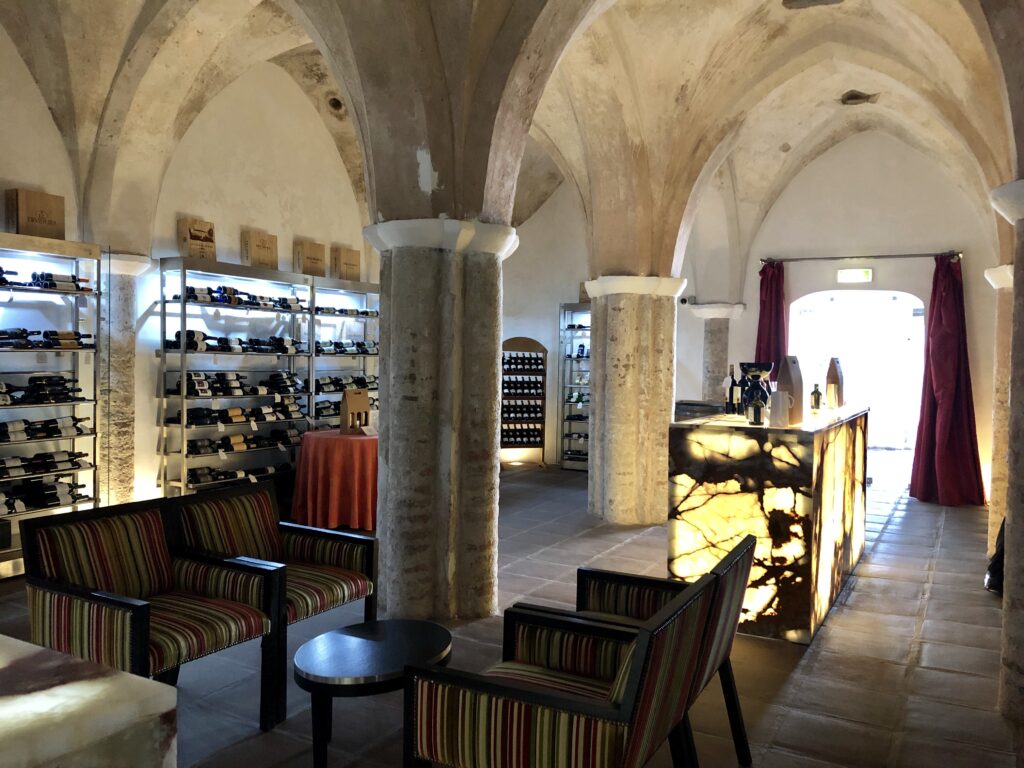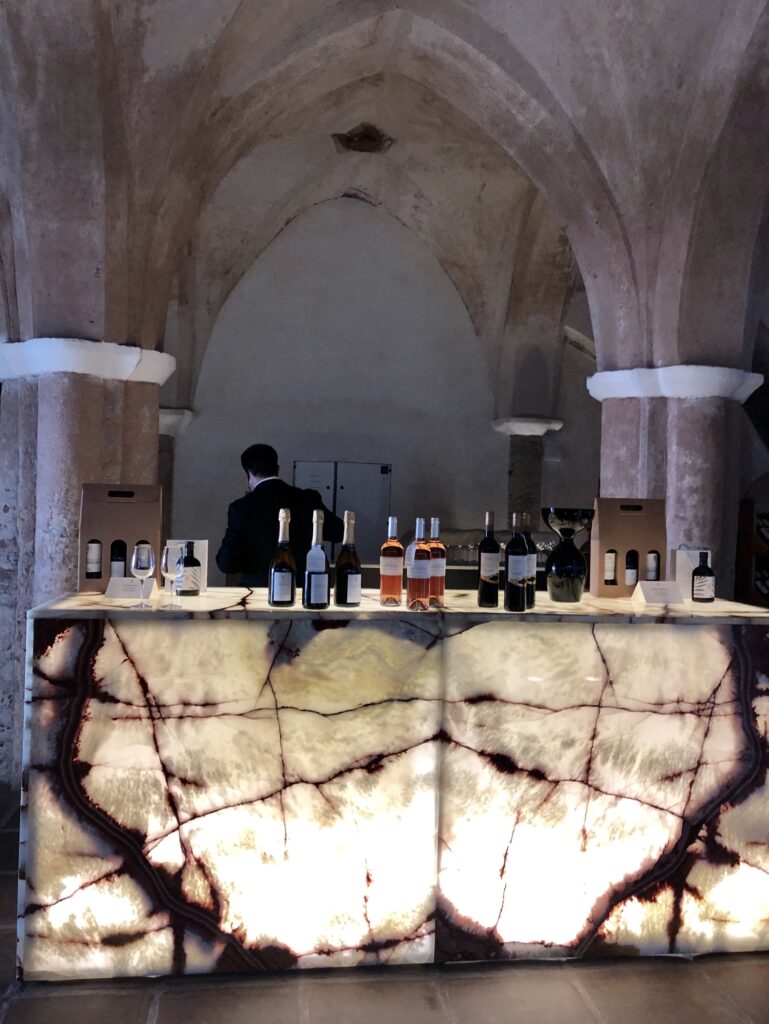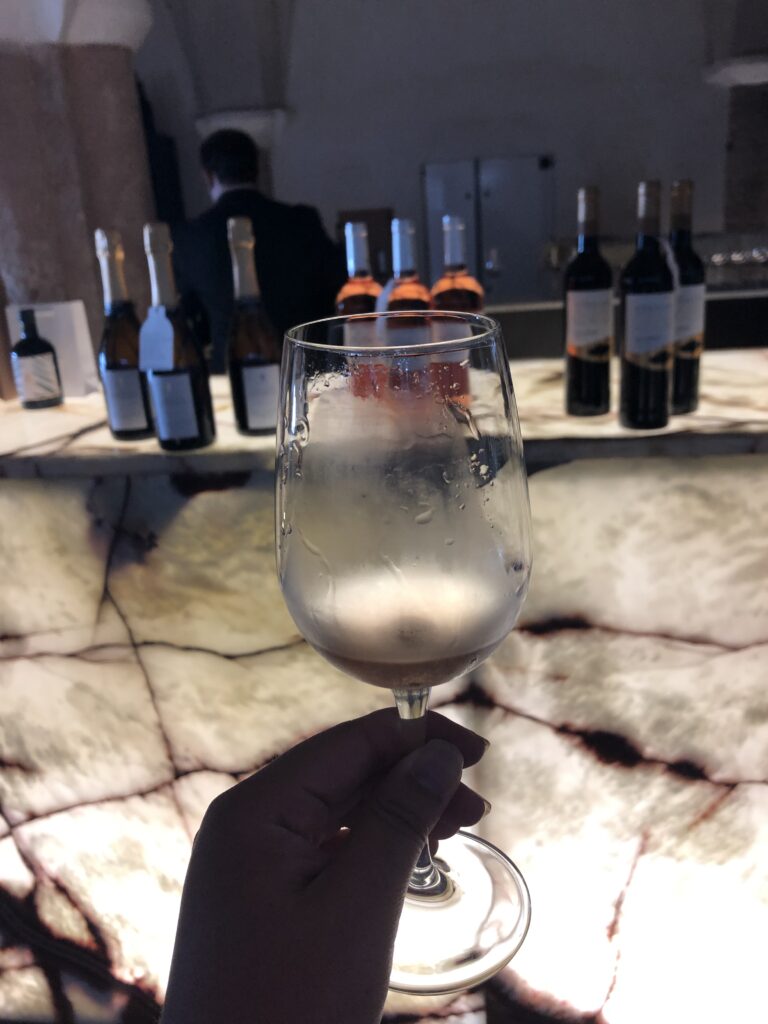 ---
Overall Rating: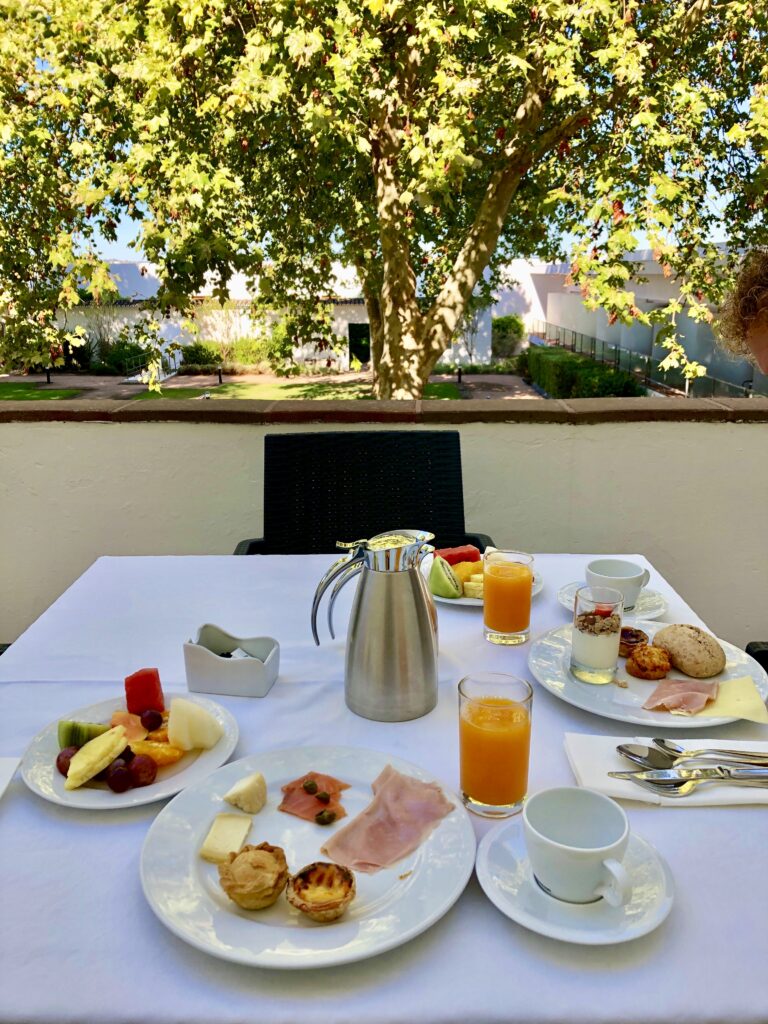 Service – 5/5
Location – 5/5
Room – 5/5
Breakfast – 5/5
Experience – 5/5
Convento do Éspineiro is an experience and as heritage hotels go this is the best of the best. The history and sheer natural beauty of this place leaves you feeling the Alentejo region in your soul. If you are someone who appreciates history and is looking for a place that will both rejuvenate and fascinate you this is it! What I also loved about this hotel is that it is meant for exploring (both inside the historic convent itself and outside in the gardens) and there are multiple places to relax and unwind.
Also, a special note, given the current COVID pandemic I felt completely safe in this property. All of the staff were meticulous and polite when ensuring safety. Social distancing was maintained and everyone was wearing masks both indoors and outdoors. All meals and tours were scheduled at least a day in advance to prepare the staff for proper measures.
If you haven't already, check out my post on the historic city of Évora as well, which will give you the perfect excuse to stay in this beautiful place! 
---
---